Learning & Resource Center
Articles
Most Popular Posts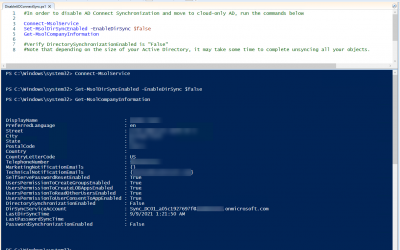 To disable AD Connect sync, you need to use this command from an elevated PowerShell ISE or command line: Set-MsolDirSyncEnabled to $false. It is very important that you run this command prior to uninstalling AD Connect.  Azure Active Directory needs AD Connect...
FAQ
Frequently Asked Questions
Add a User
Gather the data you need to add the user, such as username, Job Title, and Department
Open Office Admin active users page: https://admin.microsoft.com/#/users
Select: Add a user (Keyboard shortcut Shift+A+U)
Fill out user information
Assign a strong password
Set "Require this user to change their password when they first login"
If desired, select to send password via email and select email address
Next
Select location
Assign appropriate product license.  (In some cases, you will want to create user without product license.  For example, an admin-only account.)
Next
Select admin role only for administrative accounts.  Most users will have no admin center access.  If you are uncertain, choose no admin center access.
Open Profile Info and fill out appropriate information, such as Job Title, Department, and Office Phone
Next
Review settings to ensure they are correct
Finish Adding
If desired, save the settings you just used as a template using "Save as Template"
Close
Restore a File
Open Office admin and restore the file
Edit in Local Word or Word Online
Use the three dots to select to edit in local Word vs Online Word
Share a file with someone in my organization
Select the file and share it.
Add a group
Open your Office admin and add a group
Revert to a Previous Version of a File
Go into DropSuite admin and select file to be reverted.
Export Journaled Email for Court
Go into DropSuite Admin, search for the emails needed, then export.
Share a file with someone outside my organization
If your organization allows it, open the file, share, and enter the external email addresses of the people you want to share with.